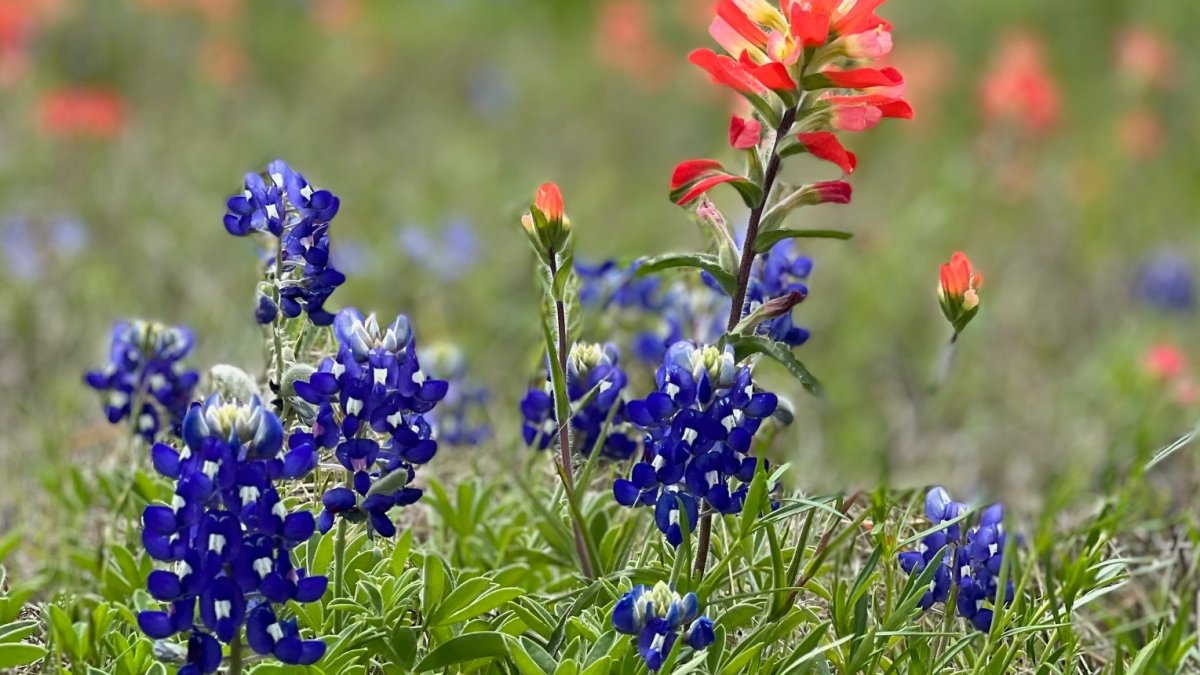 Texans should get ready for an abundant, flourishing wildflower season this year. According to experts at the Lady Bird Johnson Wildflower Center in Austin, wildflower season in Texas will be especially lush in 2023.
"I think it's going to be an above-average spring, particularly when it comes to bluebonnets," says Andrea DeLong-Amaya, the center's director of horticulture. "We had good fall rain when the seedlings were just starting to come up, and that continued through the winter."
Rainfall is not the only factor that contributes to the time that the wildflower season begins. Temperatures in Texas year-round can cause the wildflowers to bloom earlier or later.
"We've had above normal rainfall in the fall which is good because that's when not only bluebonnets but the other wildflowers typically germinate," Julie Marcus, senior horticulturist at the Lady Bird Johnson Wildflower Center, said. "But we've had such warmer temperatures, seasonally warm temperatures, that have caused them to bloom a little earlier. We are a little worried now that they are going to peak earlier than normal."
Weather maps shared by David Yeomans, KXAN meteorologist, and Wildflower Center advisory council member, indicate that January and February were significantly warmer during 2023 in Texas than the previous year.
"The warmer it is, the earlier things start to bloom," DeLong-Amaya said.
Though there are five species of bluebonnets native to Texas, the most common, the Texas bluebonnet, typically peaks in Central Texas in early April, but weather conditions across Texas may cause the flowers to bloom earlier than usual.
Here in North Texas, wildflower season typically peaks about 10 to 12 days after the season peaks in Central Texas, Marcus said. That means that this year, North Texans can expect to see the most spring wildflowers in late March and early April.
Experts said the weather conditions from last summer could impact the growth of wildflowers seen across the state as well. The drought most of Texas experienced during the 2022 summer months could contribute to a prolific wildflower season this year.
"The drought may have caused some grasses to die back," DeLong-Amaya explains. "That opens up soil space for bluebonnets and other spring-blooming annuals to grow."
While Texans wait to see the bluebonnets blanket the roadsides, other flowers like mountain laurel, Carolina jessamine, and Mexican plum are currently in bloom, the Wildflower Center said.
"Mexican plum [in particular] attracts lots of different pollinators," says DeLong-Amaya. "It's pretty entertaining to just stand and see what shows up. Every day there's something new to see as the season progresses."
Flowers like Indian paintbrush and Gaillardia, also known as Indian blanket or firewheel, tend to bloom at the same time as bluebonnets, Marcus said.
According to Marcus, the Indian paintbrush has a symbiotic relationship with bluebonnets, but because Texas has experienced a drier year than normal, the flower may bloom a little later than usual.
In the meantime, flowers like Gaillardia and pink evening primrose, both of which like drier conditions, are expected to bloom on schedule.
During early spring, North Texans can expect to see flowers like Phlox drummondii, wind anemone, Carolina jessamine, and coral honeysuckle. Cross vine, which blooms around the same time that hummingbirds migrate back to Texas, could also be making an appearance soon, Marcus said.
"Just go out and enjoy the wildflowers," Marcus said. "It's looking like it's set up to be a great year, especially for the bluebonnets."
Marcus reminds those who choose to stop on the side of the highway to pull well off the road and keep safety in mind when taking photographs.
"We always tell people to be respectful of fence lines and don't trespass, but the main thing is being safe," Marcus said. "And try to pick an area where somebody has already sat down instead of making a new spot where you've got the whole area trampled. Because bluebonnets are annuals, if they're trampled or crushed, they won't be able to set seed and provide bluebonnets for the next year or years to come."
There are other places where North Texans can enjoy the wildflowers as well. The Dallas Arboretum and Botanical Gardens, the Fort Worth Botanic Gardens, and nature centers around North Texas will provide a stunning display of everything the 2023 wildflower season will have to offer.
"What I would suggest of folks in those areas is to be respectful of the gardens," Marcus said.
Luckily for Texans, early spring is not the only time to enjoy the state's wildflowers. Marcus said some late spring blooms like coreopsis, horsemint, black-eyed Susan, greenthread, mealy blue sage, lantana, Zexmenia, and four-nerve daisy are expected to emerge in late April and into May.
"We are very blessed in Texas to have color all year round," Marcus said.
As this vibrant wildflower season begins in Texas, it's important to remember that though the bluebonnets are an iconic symbol of Texas, there are many other types of flowers to enjoy.
"I hope that people will look beyond the bluebonnets because there's a whole lot else out there," Marcus said.
Flowers to See During Wildflower Season 2023